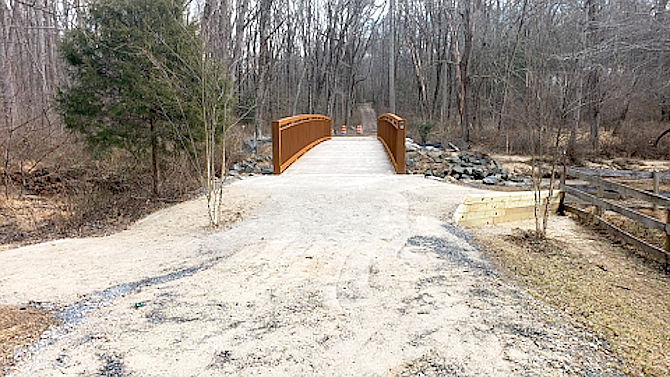 The Park Authority will host a virtual ribbon-cutting ceremony in mid-March to mark the installation and opening of a new bridge in Gabrielson Gardens at Difficult Run Stream Valley Park in Oakton. The bridge opened to the public Wednesday, Feb. 17, 2021.
Sully District Supervisor Kathy Smith noted, "I'm so excited that the bridge is installed, as it has been a long and arduous process to get to this moment. When the original bridge was determined to be structurally deficient in 2016, my office began working with numerous County staff to replace the bridge. Once the funding was secured, I began working with the Fairfax County Park Authority (FCPA) staff to develop a plan to install a bridge that would meet the needs of the community. I'm proud of the time and work that FCPA staff put into this project to provide this amenity for the residents. This 75-year life-span bridge, which provides access to the Gerry Connolly Cross County Trail and reconnects communities across the Difficult Run, is a reason to celebrate."
At the Park Authority Board meeting on Feb. 10, 2021, board members voted to name the new bridge the Burnet Bridge to honor the memory of Thornton and Mary Elizabeth Burnet, who provided decades of unwavering support and commitment to the Hunters Valley Community. The Burnets also were instrumental in helping to develop and preserve the unique environment, community spirit and recreational opportunities of the Hunters Valley area. The bridge will bear a commemorative plaque in their honor.
The Burnet Bridge replaces a structurally failing 1940s-era bridge, known locally as Gabrielson Bridge, which crossed Difficult Run and connected the Gerry Connolly Cross County Trail (GCCCT) with Hunter Valley Way. The original Gabrielson Gardens bridge was removed in 2018 by the Fairfax County Department of Public Works and Environmental Services following an inspection that identified significant safety concerns.
The new bridge was placed at the site last week and contractors have substantially completed the work, allowing for the bridge to open for public use. Final grading and tree planting will occur when the site dries out in four or five weeks, weather permitting. The additional work will take approximately one week. At that time, the fence on Hunter Valley side will be removed; however, that additional work will not affect access to the CCT.
The replacement bridge is made of prefabricated steel by Wheeler Lumber LLC of Shakopee, Minn. Accubid Construction Services was awarded the construction contract. Funding for the nearly $413,000 project was provided from the Sully District Walkways Fund and via Sully District developer proffers.
A virtual ceremony to dedicate the new bridge will take place on Saturday, March 20, 2021 at 10 a.m.